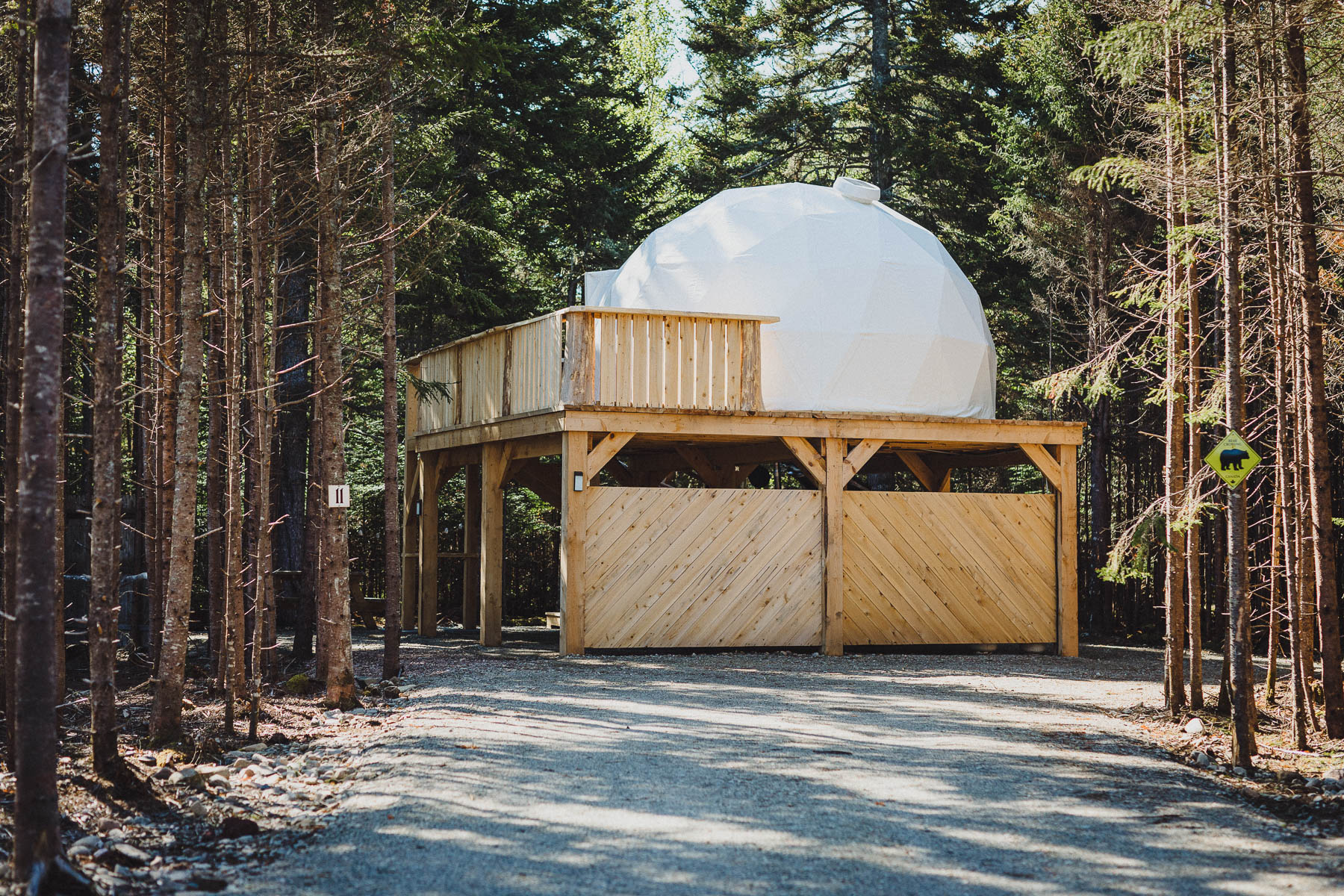 Couples come to stay at West River Camping due to it's superior privacy, tranquility, and the choice to either go on an adventure or stay in and snuggle. 
With a private hot tub included in your dome glamping stay, you can sit back with a glass of wine and truly enjoy some time to yourselves. What better place to do that than surrounded by trees and the sounds of the birds? 
If you're the adventurous type, Fundy National Park is 12km away, full of trails to explore. Cape Enrage is minutes away. Alma has kayaking and some of the most amazing restaurants you can find. There are two golf courses in opposite sides of West River, many biking trails, and even 2 hidden gem beaches within walking distance. 
Dome Glamping is a truly one of a kind experience in itself, and is a bit on the pampered side of camping, for those who've never tried it before. Dome vacations vary from place to place, but the two options we have at West River Camping are designed for couples. There's 1 Queen size bed, an electric fireplace, a 3-piece bath, hot tub, and a full cooking area. Couples also love the robes and free firewood included in the rental.
Our two domes are named the raised dome (pictured above) where the cooking and seating area has been built below the dome. It's fenced in and super private. You could enjoy an amazing meal even if the weather does not cooperate. 
The Lower dome has a covered wood-fired hot tub and a seating/cooking area. It also has the benefit of having an extremely large lot, which is the only one on site that can have additional visitors with an RV stay with you for a fee. (Please inquire before planning). 
Dome Glamping has become popular for newlyweds at our campground, as we've had 3 engagements here in the past 2 years, all staying in our romantic Domes! Whether you're newly in love or are looking for new ideas and adventures, this couples vacation idea is one you should try!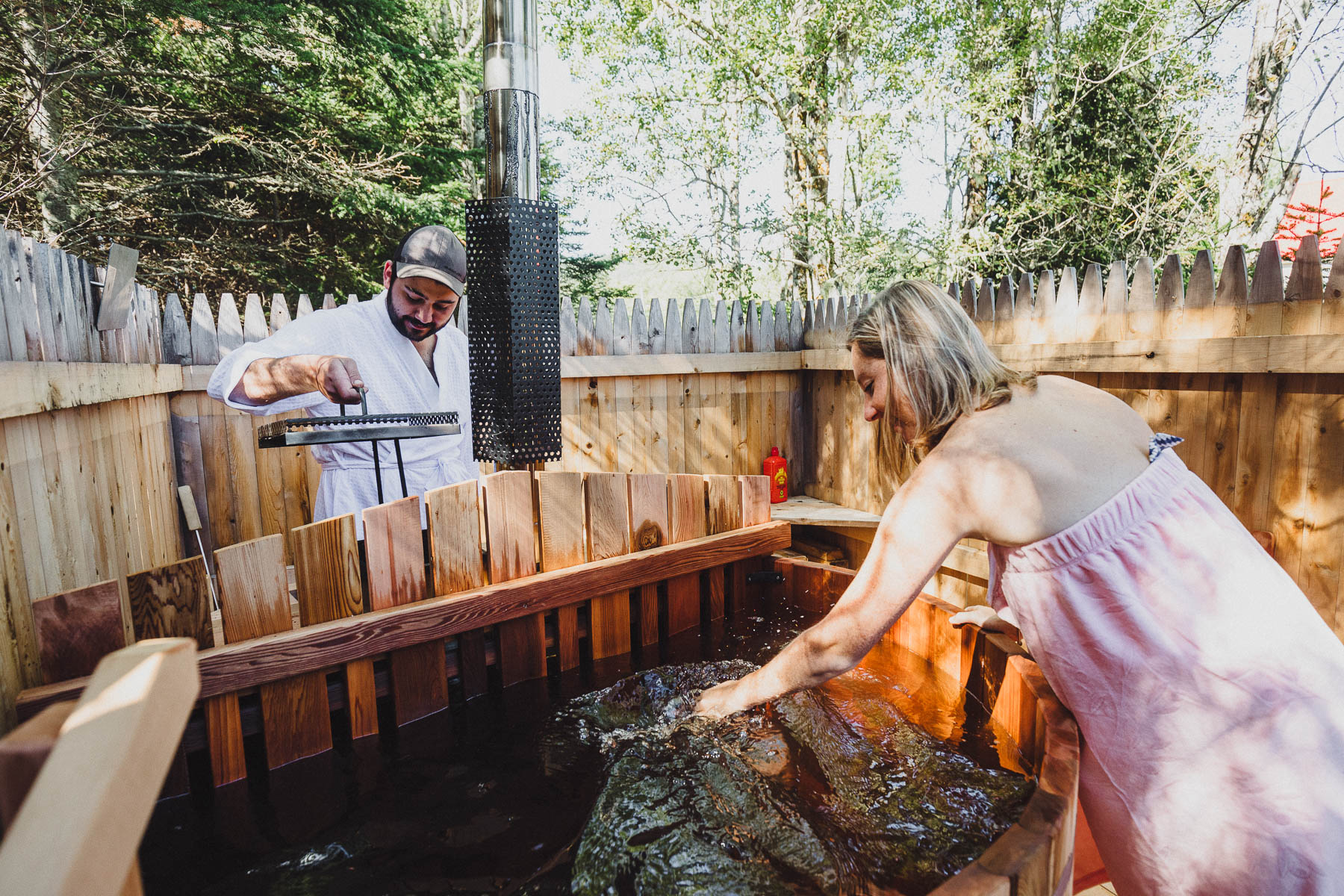 Domes have become one of the unique experiences that you can stay at in New Brunswick. We offer a variety of sites, but our domes are one of the most popular, especially for couples looking to get away from it all.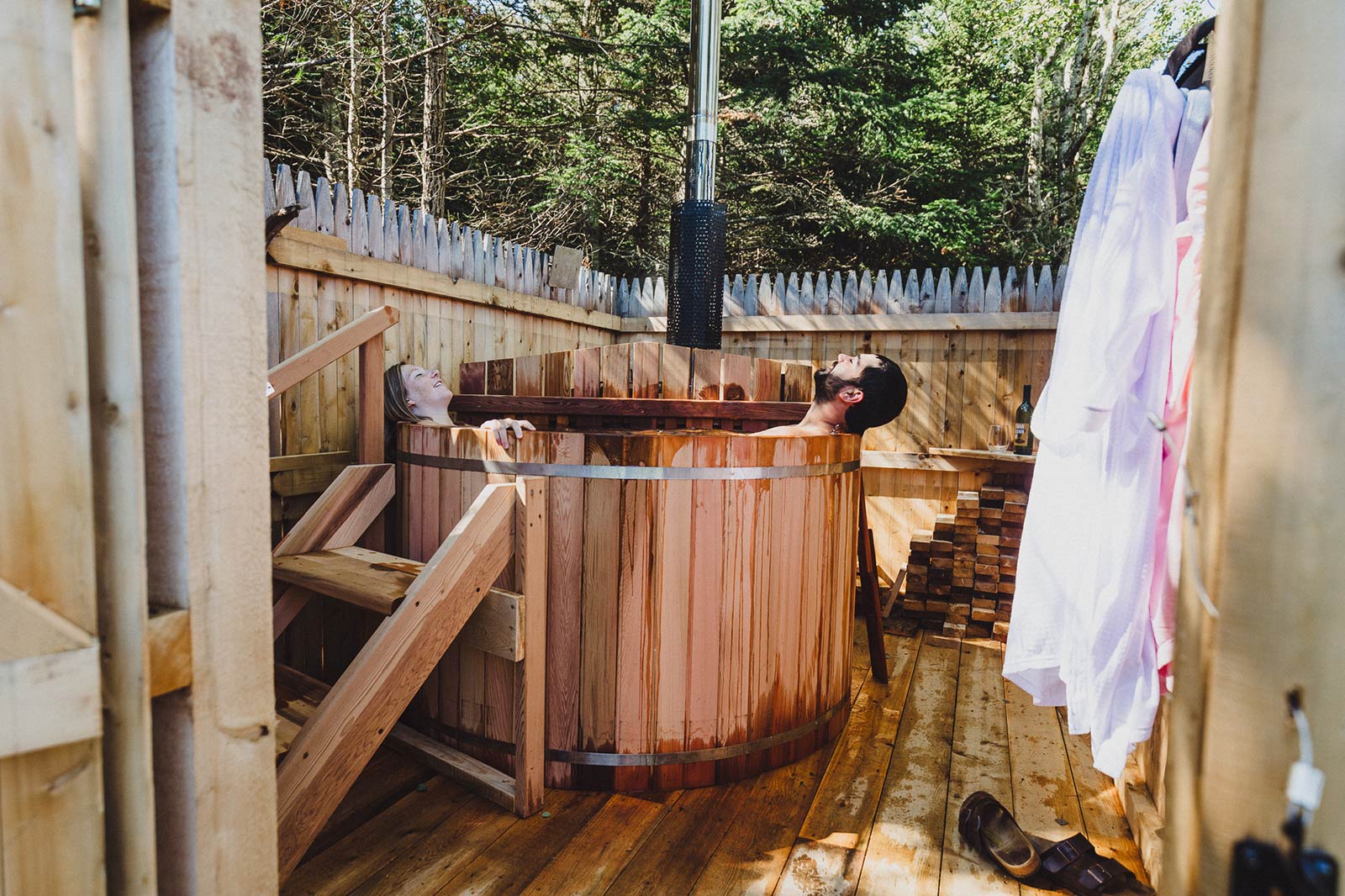 Our 2-night stay was amazing!!!
The 12 foot up in air private dome was absolutely amazing!! The woodfire hot tubs were especially unique.
We loved that we were in a corner with total privacy.
We will definitely be back!!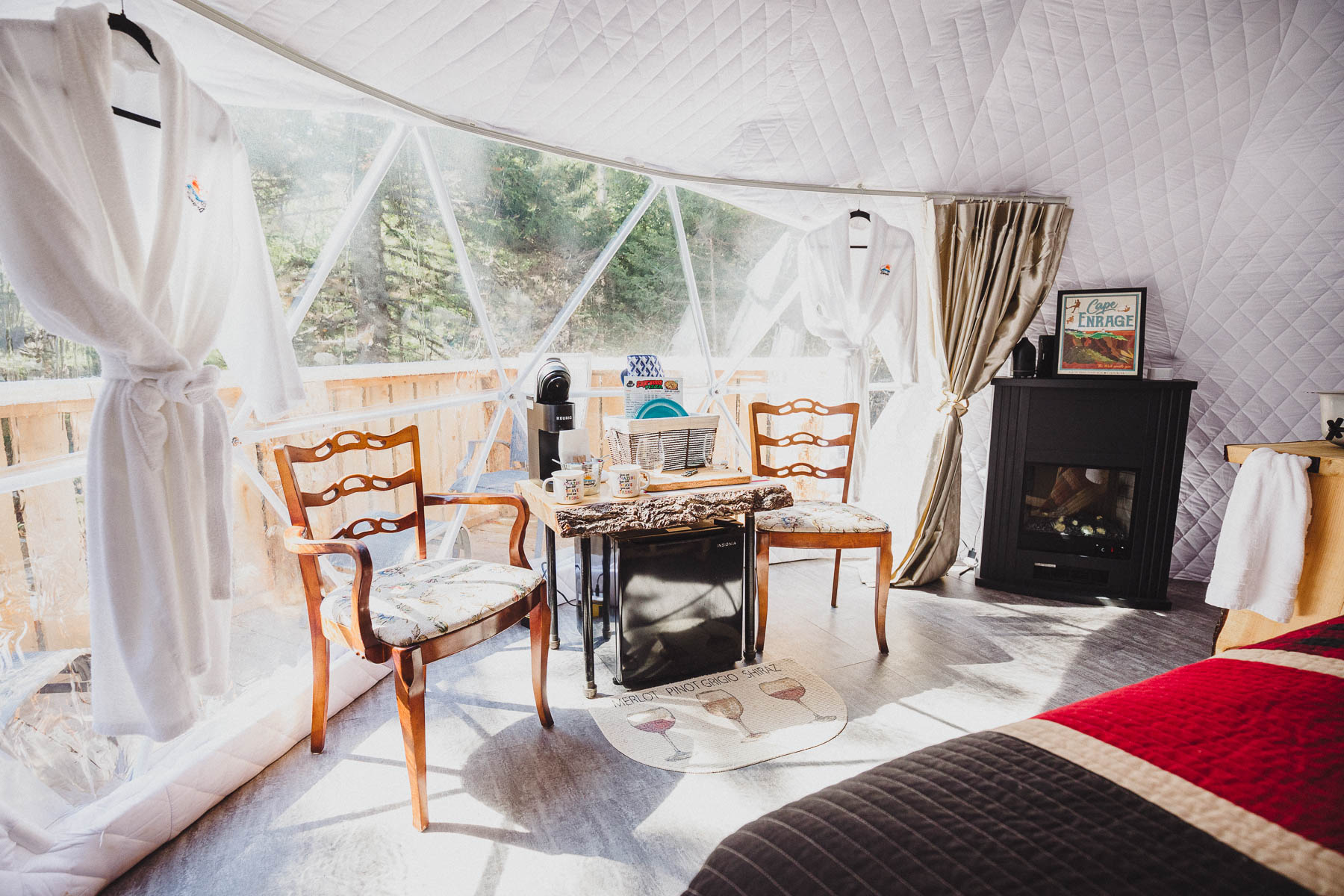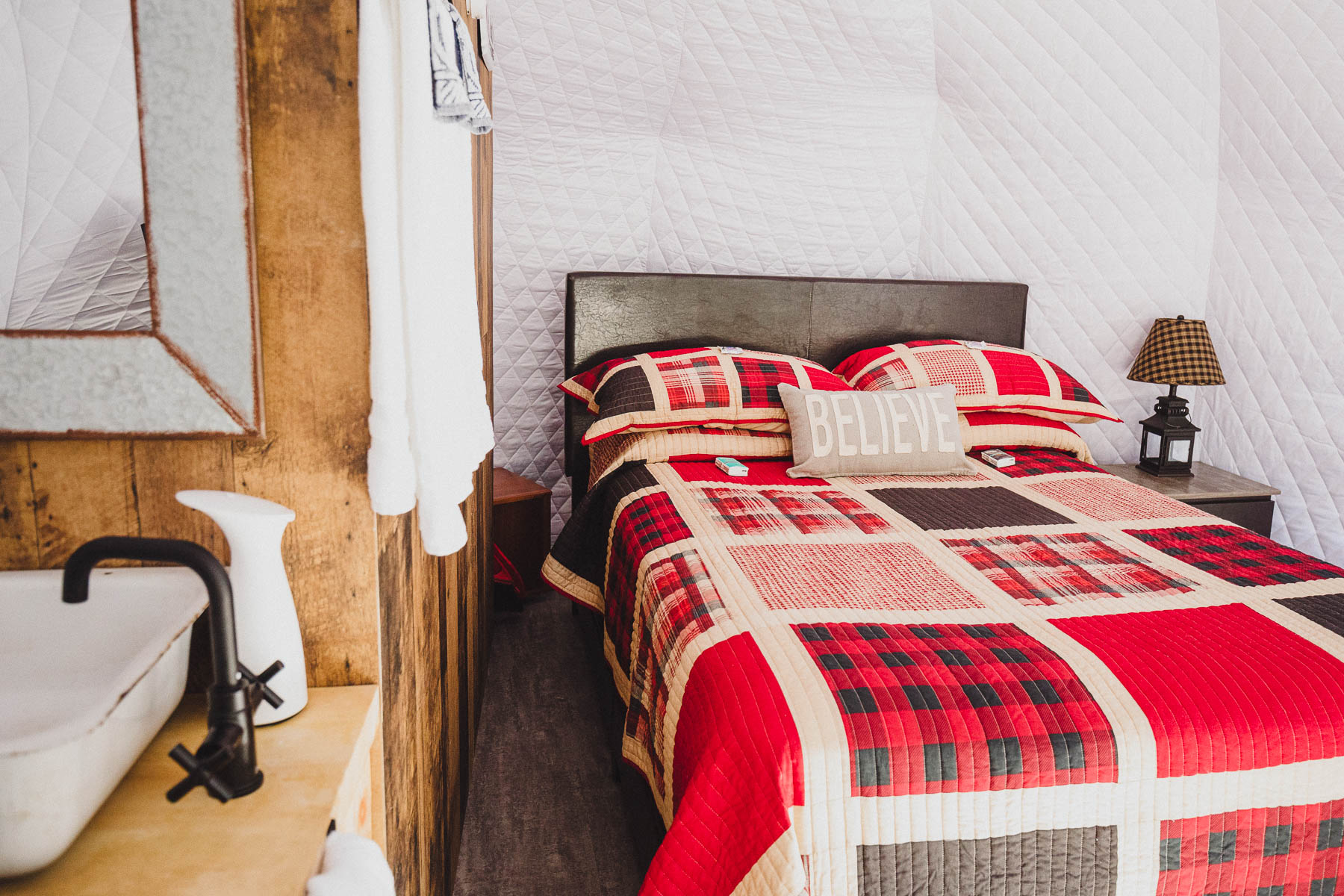 For those looking for to stay in a dome or unique stay in New Brunswick you can find many options at Tourism New Brunswick's website.